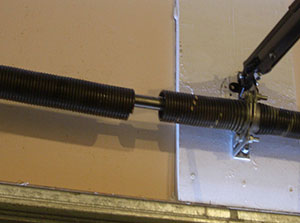 The specialists at Garage Door Company El Sobrante are highly trained to handle all garage door related issues. We dedicate ourselves to helping you with all of your garage door needs. We guarantee that we will take care of all of your garage door problems quickly and efficiently. Our company only employs technicians that are experienced so that we can ensure that they will do the job right. We won't waste your time by having to redo the job. This is part of our same day-service. We promise you timely results. Our technician's trucks are stocked with all of their tools and equipment. This ensures that they have everything they need when they arrive. This means we won't waste your time making multiple trips. We promise to serve you quickly and efficiently.
Garage door springs control the most important function of your garage door–when it opens and closes. This spring will keep your door open when it is meant to be open and it will force the door to remain closed when it should be closed. A malfunctioning garage door is very dangerous. A damaged spring causes your door to be unpredictable. Your garage door may fall suddenly. This fall will seriously injure anyone or anything that happens to be underneath the door. These springs are very heavy which makes them difficult to install. Don't risk your safety trying to fix a garage door spring by yourself. Our technicians have specialty tools that make this job easier. Call our certified technicians to handle this issue for you. We can assist you no matter what type of spring your garage door has. Our company repairs and replaces service oil tempered springs, extension springs, overhead door springs, torsion coil trampoline springs, and galvanized garage door torsion springs. These various spring styles were developed for different styles of doors. Extension springs were created for lighter doors. These springs come in a single set of two. Torsion springs were designed for extremely heavy garage doors. The springs come in two sets of two. Galvanized garage door springs can function as extension or torsion springs. They are bonded through a reaction that combines iron and zinc. Let us help you select the right spring for your door. Let our organization help you will all of your spring-related needs.
Reliable service provider for garage door remotes.
Your garage door system is composed of a variety of parts. One broken piece can disrupt the entire function of your door. We are happy to assist you if your garage door track becomes clogged, rusted, or warped. We can also help you if your garage door cable has snapped, frayed, or slipped off of the drum. Our organization can fix your garage door rollers and bearings. You may have an issue with some of the smaller pieces of your garage door such as a damaged seal, fastener, hinge, or screws. We can also repair or install windows in your garage door. No job is too big or too small for us to handle. Whatever problem befalls your garage door, we promise to assist you.
Garage Door Company El Sobrante is proud to be a part of the El Sobrante community. We are pleased to help its 12,000 citizens will all of their garage door needs. We guarantee your satisfaction.