As experts in the field, we at Garage Door Repair El Sobrante make it a point to train our technicians well. We make sure they are capable at handling all types of doors from different manufacturers. Every time a new type of door is introduced in the market, we try to learn and master its intricacies. However, while we're adept at repairs and installation, there are manufacturers that manage to stand out in terms of durability, quality, price, safety, and ease of use. There are specific garage doors we recommend and use in our installations. One such manufacturer is Clopay, who has never failed to impress us with their quality doors. Here is a brief look at what Clopay is all about, as well as the products they offer.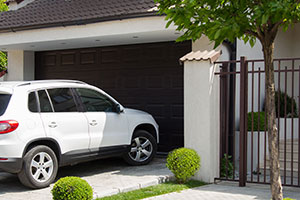 What is Clopay?
Clopay is one of the leading manufacturers of residential, commercial and industrial garage doors in the US, although their reputation and market presence is spreading globally. Clopay has been under Griffon Corporation since 1986 as one of its building product branches. Apart from its garage door line, Clopay also supplies door parts, accessories and remodeling products.
The Clopay Product Line
Clopay has two major product lines: the Classic and Portfolio line. The classic line offers traditional steel garage doors with flat surfaces and rectangular sections. We've installed many from Clopay's classic line as it is neat-looking, sleek, simple and affordable. Clopay's Portfolio line prioritizes aesthetics without compromising quality. These garage doors feature the carriage-house design that brings in old-world grace and warmth, giving them more appeal and personality.
Clopay has several series under its Classic line: Premium, Value and Value Plus. Homeowners on a tight budget would benefit well from Clopay's Value series. Garage doors under this series are composed of a single layer of high quality steel that does its job well without costing too much. For additional features, we recommend the Value Plus series. Unlike the Value series, Value Plus doors are constructed using two layers of durable steel. These also have insulation and energy-saving features. The Premium series is the most expensive among the lot, with its three layers of fully insulated steel, and this also very durable and lasts a long time.
Under its Portfolio line, Clopay has three garage door series: the Coachman, Gallery and the Reserve Collection. The Gallery series is the most affordable line of carriage-style doors from Clopay. These feature two-layer steel construction and is geared towards clients with a tight budget. For those looking for an upgraded version of the Gallery, we usually recommend the Coachman collection. Similar to the Gallery, this collection also features the carriage-style design. The only difference is the construction, which is made from four layers of steel for more durability. Although they are made of steel, these garage doors have a composite or faux wood finish for that grand and elegant traditional feel. The Reserve Collection features hand-crafted doors made of wood. These doors cater to people who have the budget to create their custom-made carriage style garage doors.